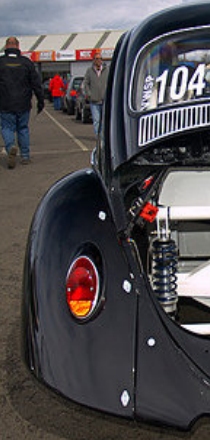 2004
1/4 Mile Details
21.41 sec
53.75 mph

2005-8
1/4 Mile Details
14.41 sec
87.00 mph



2010-
1/4 Mile Details
9.51 sec
135 mph
Welcome to Current Racing, the home of Black Current III
Black Current III is currently the 'worlds quickest electric car', it covers a ¼ mile from standing in little over 9 and a half seconds and reaches a terminal speed of almost 135mph
Black Current III is based on a 1965 Volkswagen Beetle, the Team consists of Designer: Olly Young & Driver: Sam Young, Crew are Ben Fisher and Paul Grasby.
On these few pages you will find details of the build, plus information about Black Current 1 & 2.
There is also a list of all the events we plan to attend, links to various news paper, website articles plus a link to our youtube.com page where you'll find clips of our runs.
The car is very much a 'working progress' and is constantly evolving, so stay tuned for more record breaking runs.